Humana Digital

UI, Art Direction
While at FCB Chicago, I had the pleasure to work on Humana, a major health insurer based in Louisville, Kentucky. Humana was looking to refresh their entire web platform, using their existing branding while improving aspect of the it to adhere to WCAG 2.0. I helped guide the team toward accessibility best practices, while helping to put together low fidelity mockups for Humana.

Tanvas Resource Page

UI, UX, Product
Tanvas is a company that specializes in developing haptic technology for corporations and organizations. Looking to expand their ideas to 3rd party developers, the company needed a communal web resource page for them to lead Tanvas' technology toward new feats.
Our team had a hard deadline of a week to deliver a concept to the company. Very little prototyping was involved in the process, forcing me and my team to develop a concept in an iterative and agile manner.

Using the user interviews and input we recieved from Tanvas, we devised personas, assessing their users needs and goals.

Visually, I referenced Tanvas' marketing website for branding cues, and improved components of it to make it more accessible and user friendly.



A PLATFORM MADE EASY
Tanvas enjoyed the results of the project. What we created for them was a resourceful web forum platform with clear CTA's, tags and and buttons that felt more actionable, while also expanding the company brand to be more user centered.
Visual Designer:
Christopher Santoso
Design Lead:
Litha Ramirez
Senior Designer:
Michelle Sus
User Experience:
Rickie Robinson
Business Analyst:
Bradley Walker

Venta USA has been operating in the US for about a decade with no name recognition or internet presence. The USA branch's website lacked CTA's, clear taxonomies, and site architecture. The company is known for it's Airwasher; a humidifier that purifies the air. Despite it lack of visibility in the states, it's parent Company in Germany is tremendously popular.
During the discovery process, my collaboration with Venta's content team unlocked new insights that informed and enhanced the site architecture.

We Leveraged:

Personas
Competitive Analysis
Prototyping
Wireframes
Usability Testing



A FLUID EXPERIENCE
I rethought the user experience to make it more simple. During this discovery phase we focused on a MVP with an emphasis on getting Venta's customers to purchase it's midrange airwasher, it's main source of revenue.



Lien Hoa Food Corp

UX, E-commerce
Lien Hoa Food Corp has operated for 20 years as one of the largest Asian food wholesalers in the Midwest. And with the growing demand for wholesale e-commerce purchasing, Lien Hoa Food wanted to push forward and craft a digital e-commerce experience truly tailored for their customer.
A MODERN E-COMMERCE EXPERIENCE
Initially I conducted onsight interviews with customers that came through the store to make their purchases, asking them a series of question around what type of purchases mattered to them the most. After meeting with stakeholders, reviewing the user research, wireframing and prototyping, and conducting a series of usability tests, we concluded that sales and deal were very important purchasing points. These we emphasized as call to actions throughout the site.
A SOLID MVP
I developed a relatively simple design system for the MVP site, while getting my hands dirty and doing some front end development to build out the site. We ended up using shopify as the backend platform because of its app intergration services. Most of Lien Hoa's customers were amazed by the simplicity ease of use of the e-commerce platform, compared to Lien Hoa competion.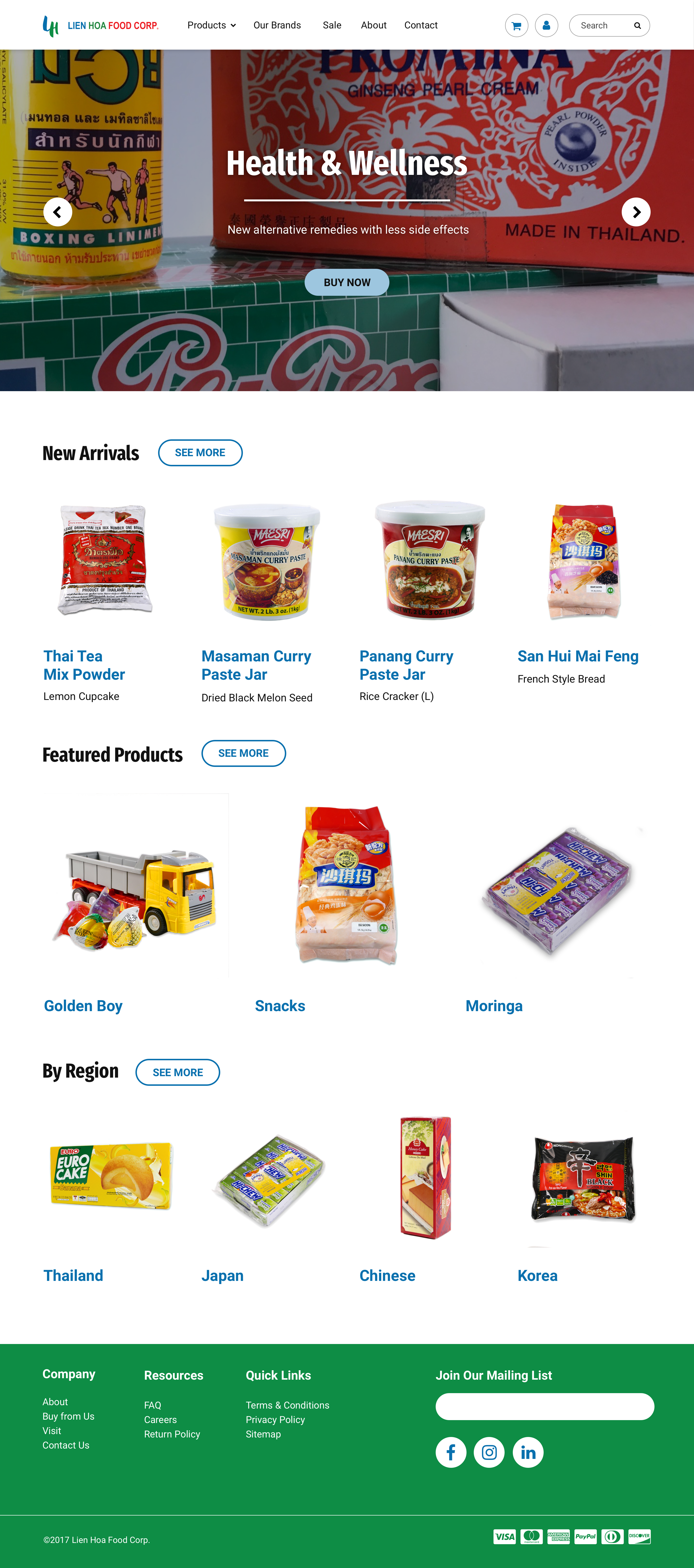 Personal Projects
Print, Typography


My collection of printed matter created for events. All of these pieces are explorations in form and typography.
Concept proposals for:
TUSK